The Best Wyoming ATV Trails
With just under 98,000 square miles of land, Wyoming is a state known for its vast plains, majestic mountains and prime ATV-riding spots. In fact, the off road trails in Wyoming provide some of the best riding in the country since the state is essentially one big plateau, broken up my several colossal mountain ranges. In large part, the reason there are so many Wyoming OHV trails is because 55% of the total land area is owned by the state. What that means to you is that the state forests offer over 6,100 miles of designated trails, the national parks contain 261 miles of designated trails, and on the land administered by the Bureau of Land Management, off-roaders will find tens of thousands of miles of non-designated trails and primitive roads. Just for instance. When it comes to ATV trails, Wyoming is paradise. So, where is the best trail riding in Wyoming? Where can I find ATV trails near me if I live in the Wyoming? Which Wyoming off-road trails are absolutely "can't miss"? Below is a list of just a few of the most popular Wyoming ATV trails and Wyoming UTV trails, compiled by the experts at Treadworld, with location information and websites where available.
Bighorn National Forest
Location: North-central Wyoming
Website: https://www.fs.usda.gov/activity/bighorn/recreation/ohv/?recid=30352&actid=93
The Bighorn National Forest may be one of the best-kept ATV trail riding and UTV trail riding secrets in the nation. The 1.1 million-acre area offers just under 100 different 4-wheeler trails spanning a combined 1,200 miles, through a grand diversity of wilderness and terrains that is often breathtaking—including wide-open grasslands and alpine meadows, clear lakes, glacially-carved valleys, rolling hills to sheer mountain cliffs, and lush forests. Riders with all levels of riding experience can find the outdoor adventure they're looking for here.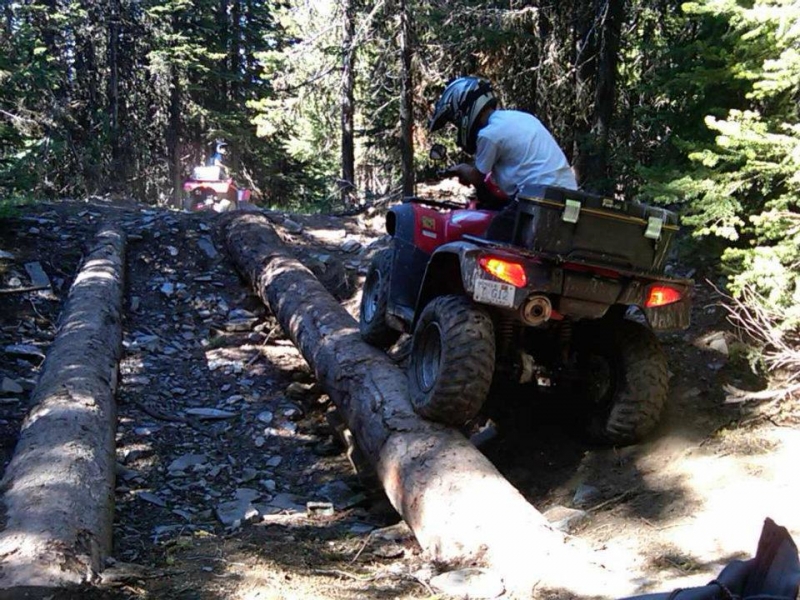 Blacktail ATV Trails
Location: Crook County in the northeastern corner of WY
Website: https://www.devilstowercountry.com/travel-stories/78-blacktail-atv-trails-adventures-in-crook
Local ATV riders love this 20-mile stretch of mostly forest trails due to the fun challenges provided by the terrain, combined with the jaw-dropping wilderness views. The area is also popular due to the access it provides to other Wyoming off-road trails. Elevations vary from 4,600 to 5,500 feet above sea level, and overall, the trails are suitable for 4-wheeler riders of any experience level, newbie to pro.
Killpecker Sand Dunes
Location: Off U.S. Highway 191 12 miles north of Rock Springs, WY
Website: https://wildatv.com/sand-dunes/killpecker-sand-dunes/
When it comes to sand dunes, Wyoming steps up big-time with this area, which is and the second largest active sand dune in the world, and one of the most popular spots for riding. Killpecker has over 11,000 acres open to off-road exploring with a virtual sea of rolling hills, including steep, rollercoaster-type hills, many small jumps and a variety of riding terrains. Watch for a large herd of rare Desert Elk (the only Desert Elk in North America) that live throughout the dunes and breed in the adjacent Steamboat Mountain area, which is closed to riders from May 1st through June 30th because it is a huge birthing area for elk and deer. There is something memorable for all ATV and UTV riders here.
Kirwin Ghost Town
Location: Outside Meeteetse, WY, Park County in the northeastern corner of WY
Website: https://meeteetsewy.com/places-to-visit/kirwin-ghost-town-wyoming
Located in the Absaroka Mountains near the headwaters of the north fork of the Wood River, this ghost town area offers around 20 miles of ATV riding trails marked by pine trees, sage and scrub brush, with mountains on both sides. Locals will tell you to carry some bear spray with you, and you may also see deer, antelope and moose during your explorations.
You should also keep an eye out for ghosts. In the late 1880s, Kirwin was a booming mining town that was home to several hundred people as well as a sawmill, two general stores, a hotel and a boarding house. In February 1907, a huge, harsh winter storm brought with it an avalanche that roared through town, destroying buildings and killing three—and the town never recovered. A couple decades later, in the early 1930s, Amelia Earhart was having a cabin built in an area about one mile outside of where Kirwin stood, but after her disappearance in 1937, work on the cabin was discontinued. Both areas are accessible on ATV.
McCullough Peaks Badlands
Location: East of Cody, WY, and south of Powell, WY, Park County in the northeastern corner of WY
Website: https://www.summitpost.org/mccullough-peak-badlands/444994
Known for being rich in fossils, for having countless prehistoric and historic sites, and for its herd of wild horses believed to be made up of descendent from horses released from Buffalo Bill's Wild West Show over a century ago—this area is also a favorite for outdoorsmen and women thanks to over 150 miles of ATV trails and UTV trails. Expect amazing landscapes and scenery along with outstanding views of the surrounding rock formations. In addition to the wild horses, you may very well see a variety of other wildlife in this area, including mountain lions, fox, deer, antelope, bald and golden eagles, sage grouse, merlins, prairie falcons and thanks to the harsh, rocky environment, rattlesnakes.
Poison Spider OHV Area
Location: West-southwest of Casper, WY, Natrona County in the middle of the state
Website: https://www.blm.gov/visit/poison-spider-ohv-park
Located on a former Bentonite mine (a fine clay formed by decomposition of volcanic ash deposited millions of years ago), this 284-acre area is a  4-wheeler riding utopia. If you're a fan of mud bogs, steep climbs and scattered obstacles, this is the ATV and UTV riding for you. Expect some hardpack and rocky trail, some small jumps, a few large jumps, a ton of steep hills—and lots of exhilaration.
Raspberry Ridge ATV Trail
Location: Sublette County, middle western part of WY
Website: https://www.fs.usda.gov/recarea/btnf/recarea/?recid=82353
Here you've got 10 miles of ATV and UTV riding trails that follow Raspberry Ridge, Jack Creek and Fisherman Creek, all while providing inspiring views of the Gros Ventre Mountain Range and the Hoback Basin. What you'll find here is mostly forest terrain with elevations from 7,100 to 8,400 feet above sea level, and trails suitable for all ATV riding experience levels. The trails are close to the Granite Hot Springs, a popular place to soak and unwind, that was built in the 1930s.
Slate Creek and Dry Dallas OHV Trail System
Location: Northeast of Jackson, WY, Teton County in northeastern WY
Website: https://www.fs.usda.gov/recarea/btnf/recreation/recarea/?recid=77566&actid=93
This forest trail provides 18 miles of challenging ATV riding through grizzly bear and elk habitat, highlighted by gorgeous valleys, wild mountains, flowing creeks, expanses of meadows, rugged mountain terrain and timber country. Keep an eye open for flooding that can make mudding trails impassable.